Welcome to Cute Dachshund Puppies. Cute Dachshund Puppies is a small breeder focusing on good dogs rather than lots of papered puppies. Our puppies are like family. Because of the stress involved, we do not ship puppies. We will sell only to the actual buyer -- no third parties. All sales are in cash. We no longer accept checks. Sorry, no exceptions.

Cute Dachshund Puppies does not take deposits or pre-sell our puppies. We want our buyers to handle and meet their puppy before they decide to adopt him or her. We want to be sure the puppy is a good fit for the buyer and that the buyer is a good fit for the puppy. Once you're set on a puppy, if you are serious, we will work with you from there on a one-to-one basis. We are not a puppy mill and since we only have a few puppies a year, we can give you the personalized attention that will make the process friendly and easy for all of us.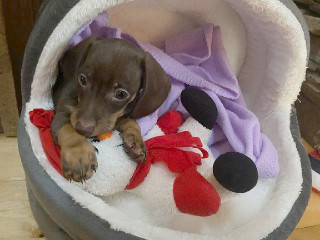 We love our dachshunds. They are not kept in cages or confined. We have a very large outdoor dog run and plenty of space for them to play, exercise and explore. Puppies are delivered with current vaccinations and deworming, medical book, toy, blanket and some puppy food.

We encourage you to look at our puppies and see if they are what you are looking for. We only want a "Forever Home" for our dogs. When buying a puppy, it is a committment for over 15 years. Please read our Purchase Contract prior to making a committment for a puppy.

Avoid puppy scams! We don't want any money from you until you get your puppy. No deposits or wiring money through untrusted applications. No credit card info required. We also only deal with the actual buyer -- no third parties. Please read the Better Business Bureau's Puppy Scams Article before you commit with any breeder.

Dachshund Puppies are small creatures. They are not recommended for young children. They are not toys that can be moved suddenly or quickly, played with roughly, or teased. Children can easily hurt these small puppies. If you want a loving, friendly and social pet for years to come, we recommend that you not allow the puppy to be handled or played with by young children.

We do not recommend getting two puppies at the same time. Littermate Syndrome is a term that refers to a whole host of behavioral issues that tend to present when young littermate siblings are raised together in the same household. Littermate Syndrome can rob you of the joy that you desire in your new puppy.

This is important. Please read this link on Foods Your Dog Should Never Eat. Dachshunds love to beg and with their cute expressions and those loving eyes, its easy to give in to their demands. However, not all foods are safe for your dog. The above link should be printed out and kept with your dog papers. Here is a good link on Feeding a Dachshund Puppy.

Important information for families with young children. It is important to always watch small children when they are with puppies and dogs. Dogs are easily frightened by loud screams and cries of children. They don't understand the sound of a child's excitement. It is easy for children to treat small animals as toys. Dachshunds have extremely fragile backs and they may be unintentionally injured by young children that treat them as toys. Never allow children to move a puppy suddenly, bother them when eating or sleeping, pull on their ears, tail or legs. Never allow a child to tease a puppy. Doing so can cause long term social behavior problems.

The Dog 10 Commandments
My life is likely to last 10 to 15 years; any separation from you will be painful for me. Remember that before you adopt me.
Give me time to understand what you want from me; don't be impatient, short-tempered, or irritable.
Place your trust in me and I will always trust you back. Respect is earned not given as an inalienable right.
Don't be angry with me for long and don't lock me up as punishment; I am not capable of understanding why. I only know I have been rejected. You have your work, entertainment, and friends, but I only have you.
Talk to me. Even if I don't understand your words, I do understand your voice and your tone. You only have to look at my tail.
Be aware that however you treat me, I'll never forget it, and if it's cruel, it may affect me forever.
Please don't hit me. I can't hit back, but I can bite and scratch, and I really don't ever want to do that.
Before you scold me for being uncooperative, obstinate, or lazy, ask yourself if something might be bothering me. Perhaps I'm not getting the right foods or I've been out in the sun too long, or my heart is getting old and weak. It may be I am just dog-tired.
Take care of me when I get old. You too will grow old and may also need love, care, comfort, and attention.
Go with me on difficult journeys. Never say, "I can't bear to watch" or "Let it happen in my absence." Everything is easier for me if you are there. Remember, regardless of what you do, I will always love you.
By Stan Rawlinson, 1993